I whipped out my wallet-size UK Photographer's Rights crib sheet at the photo club and promised to share it: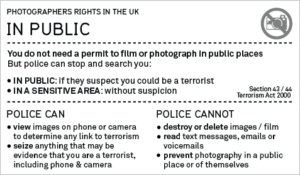 You can download and print out the full sheet here.
This is best used as an aide memoire: apparently the police don't respond well if info sheets are waved in their faces.
Something like:
"I'm an amateur photographer taking pictures for fun. Would you like to see them officer?"
is recommended if approached by an officer.