WAG thought it would be a good idea to record the blossoming of the different fruit types in the orchard. It is all about to kick off, starting with the apricots.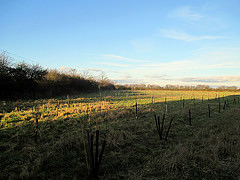 They suggested that the club might be interested and it might yet become an "activity", but meanwhile do try to get up to the Community Orchard and photograph the blossom.
If there are enough pictures (i.e. more than two), I'll make a gallery for them here on the website. In case your horticultural identification skills need some brushing up, and until the trees are all labelled, here is a listing of the varieties and their locations.
In case you don't know where the orchard is, here's a link to a map.
Some words of encouragement from Reg:
"A new photographic opportunity presents itself to the village for the first time this year. The fruit trees in the Community Orchard are about to come into flower with, we hope, spectacular displays. The opportunity will continue for several weeks as different varieties decide when to give us a show. I can, if you wish, ask the project manager to inform you as to the likely timetable as the varieties start to bud.
If anyone partakes of this opportunity could we ask them to send copies of their best to the Project Manager Graham Mumby"